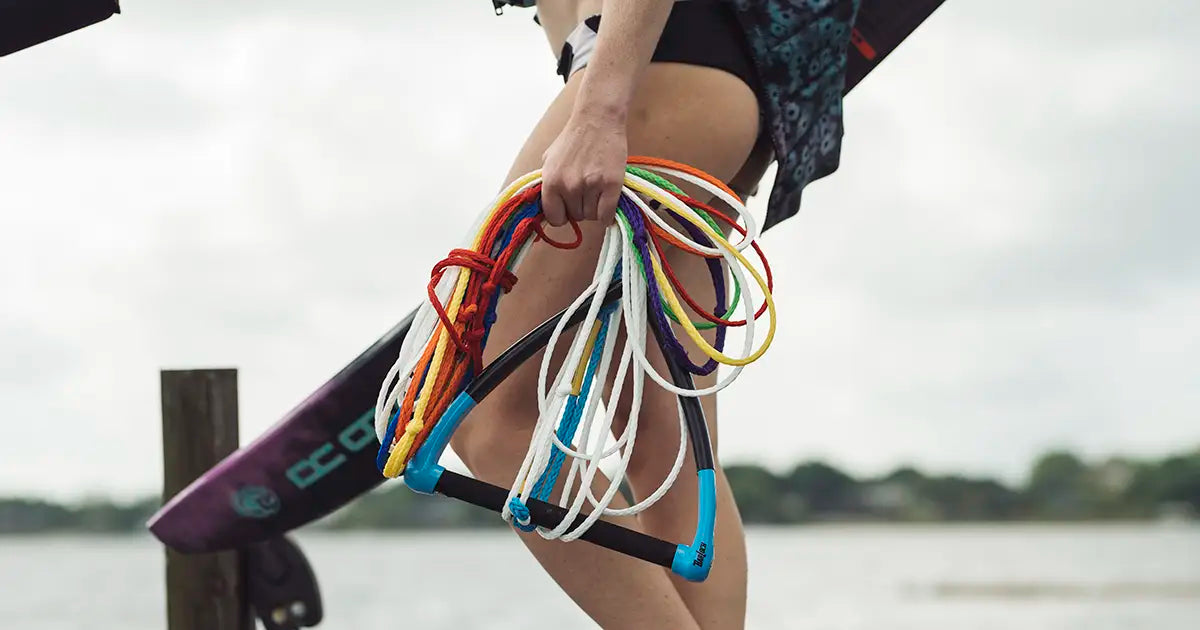 Ski Ropes & Handles
The greatest selection of waterski ropes and handles at Barts.com!
---
Mastering the Waters: Explore Our Ski Ropes and Handles
When you hit the water for a day of skiing, whether you're a seasoned pro or a beginner looking to make a splash, the right ski ropes and handles are your lifeline to excitement and control. 
Our Ski Ropes and Handles collection, featuring options from renowned brands like Proline, Masterline, Connelly, O'Brien Watersports, and HO Sports, offers a diverse range of choices to cater to every skier's needs and preferences. Discover the perfect tools to elevate your skiing experience, conquer the waves, and master the art of water skiing.
Ski Ropes: Your Connection to Adventure
Ski ropes are the fundamental link between you and the boat, providing the tension and stability needed for an exhilarating skiing experience. Our collection includes a variety of ski ropes designed to meet the demands of different skiing styles and skill levels:
Slalom Ski Ropes

: Engineered for precision and control, slalom ski ropes are designed to minimize stretch and provide consistent pull, allowing you to carve sharp turns with confidence.

Trick Ski Ropes

: Trick skiing demands flexibility and responsiveness. Our trick ski ropes are designed to provide the necessary freedom of movement for executing spins, flips, and tricks.

Combo Ski Ropes

: Combo ski ropes offer versatility, making them perfect for skiers who enjoy both slalom and trick skiing. These ropes provide reliable performance in various skiing disciplines.

Kneeboard Ropes

: Designed with kneeboarders in mind, these ropes offer the length and features required for a comfortable and enjoyable kneeboarding experience.
Handles: Precision and Comfort in Your Hands
Ski handles are your connection to control and balance on the water. Our collection features handles designed with a focus on precision, comfort, and durability:
Slalom Ski Handles

: These handles offer a firm grip and ergonomic design to ensure precise control while navigating the slalom course. They come in various shapes and materials to match your preferences.

Trick Ski Handles

: Trick ski handles are specially designed to accommodate the dynamic movements and spins required for trick skiing. They provide a comfortable and secure grip for executing tricks with confidence.

Combo Ski Handles

: Combo ski handles are versatile and designed to cater to both slalom and trick skiing styles, offering the flexibility to switch between disciplines with ease.

Kneeboard Handles

: Kneeboard handles are built for comfort and control during kneeboarding adventures. They feature padding and ergonomic designs to reduce strain on your hands.
Why Choose Our Ski Ropes and Handles?
Quality Assurance

: We prioritize quality, safety, and performance in our selection of ski ropes and handles. Our products are sourced from reputable brands known for their dedication to excellence and innovation in water sports equipment.

Variety

: Our collection offers a wide range of options to match your skiing style, skill level, and preferences. Whether you're a competitive slalom skier, a freestyle trickster, or a recreational weekend warrior, we have the right ski ropes and handles for you.

Expert Guidance

: Our team of water sports enthusiasts is here to assist you in making the right choices. We provide recommendations, answer your questions, and offer valuable insights to ensure a seamless shopping experience.

Customer Satisfaction

: Your satisfaction is our priority. We aim to provide top-notch customer service, fast shipping, and hassle-free returns to ensure you have a seamless shopping experience with us.
Master the Waters with Confidence
Water skiing is a thrilling water sport that demands the right equipment for a safe and enjoyable experience. With our collection of ski ropes and handles, featuring options from respected brands like Proline, Masterline, Connelly, O'Brien Watersports, and HO Sports, you can master the waters with confidence, knowing you have the tools needed to conquer the waves and create unforgettable memories on the water.
Explore our extensive collection today and find the perfect ski ropes and handles to match your style and skill level. Whether you're aiming to carve precision turns, execute mind-bending tricks, or simply enjoy the freedom of gliding across the water, our ski ropes and handles will help you achieve your goals and elevate your water skiing experience. Get ready to seize the waves and embark on thrilling adventures with precision and control at your fingertips!