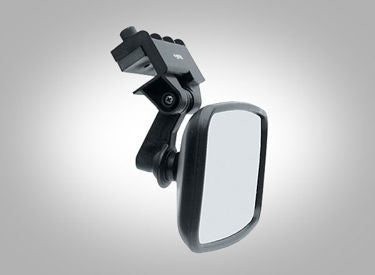 Boat Mirrors
Safety is first at Bart's Watersports. Shop boat and pontoon mirrors to maximize your view.
---
Enhance Your Boating Experience with Premium Boat Mirrors
When you're out on the water, safety and visibility are paramount. Whether you're navigating through busy waterways, towing water sports enthusiasts, or keeping an eye on your surroundings, a high-quality boat mirror is an indispensable accessory. Welcome to our Boat Mirrors Collection, featuring top options from trusted brands like Protomet and CIPA. Dive into our selection and discover how these mirrors can elevate your boating experience, providing the clarity and safety you need on the water.
The Crucial Role of Boat Mirrors
Boat mirrors are more than just reflective surfaces; they are essential tools that serve multiple crucial purposes:
Safety

: Boat mirrors provide essential rearview visibility, helping you avoid collisions and navigate safely, especially in crowded or narrow waterways.

Visibility

: They enhance your field of vision, ensuring you have a clear view of water sports enthusiasts, passengers, and other vessels behind and around your boat.

Convenience

: Boat mirrors are designed for convenience, making it easy to monitor your surroundings and ensure a smooth and enjoyable boating experience.
Options in Our Boat Mirrors Collection
Our Boat Mirrors Collection offers a diverse range of options to cater to your specific boating needs and vessel type:
Rearview Mirrors

: Rearview mirrors are designed to provide clear visibility of the area behind your boat, ensuring safety and convenience.

Watersports Mirrors

: Watersports enthusiasts will appreciate specialized mirrors that allow them to monitor skiers, wakeboarders, and tubers with ease.

Universal Fit Mirrors

: These versatile mirrors are designed to fit a wide range of boat types and models, ensuring compatibility with your vessel.
Why Choose Our Boat Mirrors?
Quality Assurance

: We prioritize quality and durability in our selection of boat mirrors. Our products are sourced from reputable manufacturers, including Protomet and CIPA, known for their commitment to excellence in marine equipment.

Variety

: Our collection covers a wide range of mirror types and sizes to match your specific boat and visibility requirements.

Expert Guidance

: Our team of marine enthusiasts is here to assist you in selecting the right boat mirror for your vessel and intended use. We provide recommendations, answer your questions, and offer valuable insights to ensure a seamless shopping experience.

Customer Satisfaction

: Your satisfaction is our priority. We aim to provide top-notch customer service, fast shipping, and hassle-free returns to ensure you have a seamless shopping experience with us.
Navigate with Clarity
Safety and visibility are non-negotiable when you're out on the water, and with our Boat Mirrors Collection, you can navigate with clarity and confidence. Whether you're cruising, towing water sports enthusiasts, or simply enjoying your time on the water, these mirrors are designed to enhance your boating experience.
Explore our extensive collection today and choose the boat mirror that matches your boat type and visibility needs. Get ready to embark on safer and more enjoyable boating adventures, knowing that you have the clarity and safety of premium boat mirrors by your side for every voyage!