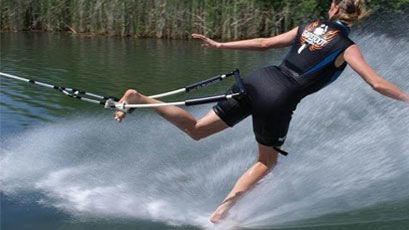 Barefoot Skiing
Improve your sunrise session with new barefoot gear from Bart's Watersports.
---
Discover the Thrill of Barefoot Skiing: Explore Our Barefoot Skiing Collection
Barefoot skiing is a heart-pounding, adrenaline-pumping water sport that pushes the limits of what's possible on the water. Whether you're an experienced barefooter or a thrill-seeker eager to learn, our Barefoot Skiing Supplies collection, featuring premium gear from Barefoot International, is your gateway to mastering the art of barefoot skiing. Dive into the exhilaration, precision, and control that barefoot skiing offers with the right equipment at your fingertips.
Barefoot Skiing Lines: Your Connection to Thrills
Barefoot skiing lines are the lifelines that connect you to the boat and provide the tension needed for an electrifying barefoot skiing experience. Our collection includes a range of barefoot skiing lines designed to meet the demands of different skill levels and preferences:
Main Barefoot Skiing Lines

: These lines are designed for barefoot skiers who are ready to take on the challenge of barefooting. They offer strength and reliability to withstand the forces generated during barefoot skiing.

Barefoot Skiing Training Lines

: For beginners and those looking to enhance their skills, training lines provide additional stability and control, making it easier to get started with barefoot skiing.
Barefoot Skiing Tow Handles: Precision and Comfort in Your Hands
Barefoot skiing tow handles are your connection to control and balance on the water. Our collection features tow handles designed with a focus on precision, comfort, and durability:
Ergonomic Tow Handles

: These handles offer an ergonomic design that reduces hand fatigue and ensures a comfortable grip while executing barefoot skiing maneuvers.

Floating Tow Handles

: Floating tow handles are designed to stay on the surface of the water, making them easy to retrieve after a fall during barefoot skiing.
Barefoot Skiing Booms: Stability and Support
Barefoot skiing booms provide the stability and support needed for successful barefoot skiing sessions. Our collection includes a range of booms designed for different setups and preferences:
Boom Extensions

: Boom extensions are perfect for boat configurations that require additional length to reach the desired position for barefoot skiing.

Adjustable Booms

: Adjustable booms allow you to fine-tune the height and position of the boom to match your barefoot skiing style and skill level.
Barefoot Gear from Barefoot International: Precision and Performance
Barefoot International is a trusted name in the world of barefoot skiing, known for its dedication to precision engineering and high-performance gear. Our collection features a variety of barefoot gear, including barefoot suits, wetsuits, and accessories designed to enhance your barefoot skiing experience. With their focus on durability, comfort, and performance, Barefoot International products are your ticket to mastering barefoot skiing with confidence.
Why Choose Our Barefoot Skiing Supplies?
Quality Assurance

: We prioritize quality, safety, and performance in our selection of barefoot skiing supplies. Our products are sourced from Barefoot International, a brand renowned for its dedication to excellence and innovation in water sports equipment.

Variety

: Our collection offers a wide range of options to match your barefoot skiing style, skill level, and preferences. Whether you're a competitive barefooter or a beginner looking to make your first steps, we have the right barefoot skiing supplies for you.

Expert Guidance

: Our team of water sports enthusiasts is here to assist you in making the right choices. We provide recommendations, answer your questions, and offer valuable insights to ensure a seamless shopping experience.

Customer Satisfaction

: Your satisfaction is our priority. We aim to provide top-notch customer service, fast shipping, and hassle-free returns to ensure you have a seamless shopping experience with us.
Embrace the Barefoot Skiing Challenge with Confidence
Barefoot skiing is not just a water sport; it's a thrilling adventure that promises exhilaration and excitement with every run. With our collection of barefoot skiing supplies, featuring premium gear from Barefoot International, you can embrace the barefoot skiing challenge with confidence, knowing you have the right equipment to conquer the waves and create unforgettable memories on the water.
Explore our extensive collection today and find the perfect barefoot skiing supplies to match your style and skill level. Whether you're aiming to master advanced barefoot skiing tricks or you're a beginner eager to experience the rush of barefooting, our supplies will help you achieve your goals and elevate your water adventures. Get ready to dive into the world of barefoot skiing and embrace the thrill of the ride!