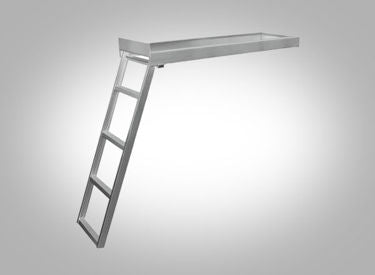 Boat Ladders
Need help climbing aboard? Shop a massive selection of boat ladders from Bart's Watersports.
---
Climb Aboard with Ease: Explore Our Boat Ladders Collection
Boating is all about exploration, relaxation, and adventure. But to fully enjoy your time on the water, you need easy and secure access to your vessel. That's where our Boat Ladders Collection comes in. Whether you're boarding after a swim, disembarking onto a tranquil beach, or simply stepping onto your boat, our boat ladders provide the convenience, safety, and reliability you need. Dive into our selection and discover how these essential accessories can enhance your boating experience.
The Significance of Boat Ladders
Boat ladders are more than just an accessory; they are the gateway to your boating adventures:
Easy Boarding

: Boat ladders offer effortless boarding, allowing you to transition from water to boat or vice versa with ease.

Safety

: They provide a secure foothold, reducing the risk of slips and falls, especially when boarding from the water.

Convenience

: Boat ladders are designed for convenience, making it easy to climb in and out of your boat, even after a refreshing swim.
Options in Our Boat Ladders Collection
Our Boat Ladders collection offers a diverse range of options to cater to your specific boating needs and vessel type:
Swim Platform Ladders

: These ladders are designed to attach to swim platforms, providing easy access to and from the water.

Telescoping Ladders

: Telescoping ladders are versatile and space-saving, extending when needed and retracting for storage.

Boarding Ladders

: Boarding ladders are ideal for boats without swim platforms, offering secure boarding options.

Transom Ladders

: Transom ladders are mounted on the transom of the boat, providing easy access from the water.
Why Choose Our Boat Ladders?
Quality Assurance

: We prioritize quality and durability in our selection of boat ladders. Our products are sourced from reputable manufacturers known for their commitment to excellence in marine equipment.

Variety

: Our collection covers a wide range of ladder types and sizes to match your specific boat and boarding requirements.

Expert Guidance

: Our team of marine enthusiasts is here to assist you in selecting the right boat ladder for your vessel and intended use. We provide recommendations, answer your questions, and offer valuable insights to ensure a seamless shopping experience.

Customer Satisfaction

: Your satisfaction is our priority. We aim to provide top-notch customer service, fast shipping, and hassle-free returns to ensure you have a seamless shopping experience with us.
Board with Confidence
Whether you're enjoying a leisurely day on the water, embarking on a snorkeling adventure, or casting your fishing line, easy and secure boarding is essential. With our Boat Ladders Collection, you can board with confidence, knowing that you have the right ladder to enhance your boating experience.
Explore our extensive collection today and choose the boat ladder that matches your boat type and boarding needs. Get ready to embark on unforgettable boating adventures, knowing that you have the convenience and safety of quality boat ladders by your side for every voyage!