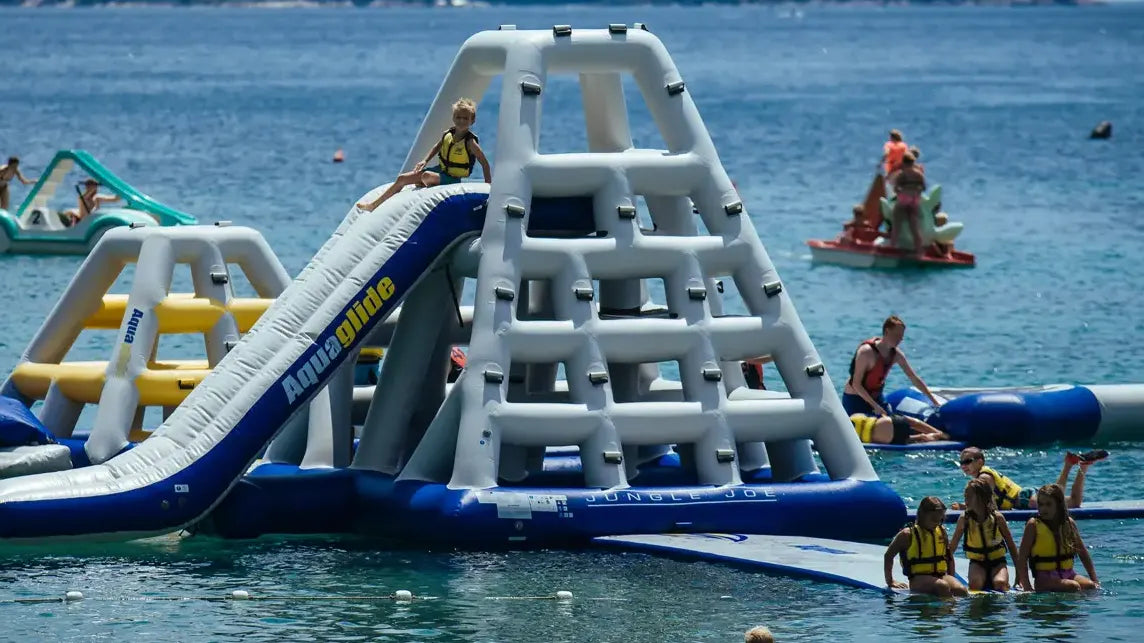 Inflatable Water Park
Build a floating oasis on your waterfront. Shop water trampolines, Aquaglide Aquaparks, inflatable slides, blobs, and more at Bart's Watersports.
---
Create the Ultimate Aquatic Playground with An Inflatable Water Park
Imagine having your very own water park right in your backyard or at your favorite lake destination. With our Inflatable Water Parks collection, this dream becomes a reality. Designed for endless fun, these inflatable water parks are the perfect addition to your summer adventures. Our collection features a range of options from leading brands like Aquaglide and Rave, ensuring you can transform any body of water into the ultimate aquatic playground. Dive into our collection and prepare to make a splash like never before!
The Thrill of An Inflatable Water Park
Inflatable water parks bring the excitement of a water park to natural bodies of water, offering an array of activities and features that guarantee hours of aquatic fun:
Slides and Climbing Walls

: Scale towering inflatable structures and race down thrilling water slides.

Trampolines

: Bounce and launch into the water for an adrenaline rush.

Splash Zones

: Engage in water battles with friends and family using built-in water cannons and spray features.

Relaxation

: Enjoy lounging areas, providing a place to soak up the sun or relax in the shade.

Safe Play

: Inflatable water parks are designed with safety in mind, featuring soft, water-friendly materials and secure anchor points.
Options in Our Inflatable Water Park Collection
Our Inflatable Water Parks collection offers a variety of options to suit your space, preferences, and the level of excitement you're seeking:
Single-Module Parks

: Perfect for smaller spaces or those looking for specific features like slides or trampolines.

Multi-Module Parks

: Ideal for larger areas, these parks offer a combination of slides, climbing walls, and other exciting features.

Options from Leading Brands

: We offer inflatable water parks from reputable brands like Aquaglide and Rave, known for their commitment to quality, safety, and innovation in water sports equipment.
Why Choose Our Inflatable Water Parks?
Quality Assurance

: We prioritize quality, safety, and durability in our selection of inflatable water parks. Our products are sourced from respected brands that adhere to rigorous standards to ensure your safety and enjoyment.

Variety

: Our collection offers a wide range of inflatable water park options to match your space, preferences, and desired level of excitement.

Expert Guidance

: Our team of water sports enthusiasts is here to assist you in making the right choices. We provide recommendations, answer your questions, and offer valuable insights to ensure a seamless shopping experience.

Customer Satisfaction

: Your satisfaction is our priority. We aim to provide top-notch customer service, fast shipping, and hassle-free returns to ensure you have a seamless shopping experience with us.
Dive into Adventure with Inflatable Water Parks
Inflatable water parks take summer fun to the next level, providing endless entertainment and adventure for you, your family, and your friends. With our Inflatable Water Parks collection, featuring options from leading brands like Aquaglide and Rave, you can turn any body of water into a thrilling aquatic playground.
Explore our extensive collection today and choose the inflatable water park that matches your space and desired level of excitement. Get ready to dive into adventure, creating unforgettable memories and cherished moments in the cool, refreshing waters of your very own water park. Make this summer one to remember with inflatable water parks that bring the joy of a water park right to your doorstep!